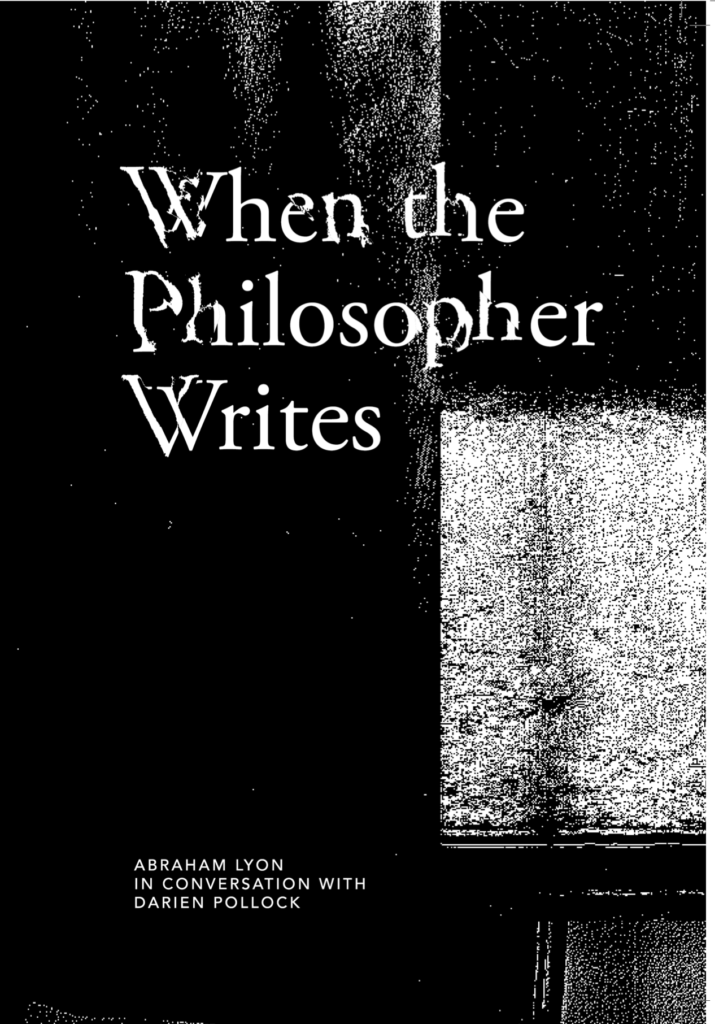 Darien Pollock is a Ph.D. candidate in the Department of Philosophy at Harvard University. Pollock, a native of Marianna, Florida, completed his undergraduate degree at Morehouse College.
Abraham Lyon: I want to begin by asking what brought you to philosophy and where were you when you found it?
Darien Pollock: This story has a few layers to it. I'm from a small town in North Florida. I call it a plantation town. A town like Marianna – that's where I'm from – it's a town where Black people are living in close proximity to where their ancestors were slaves and white people are living in the same area that their ancestors were oppressors.
But I'll say this. I went to Morehouse College specifically to escape that kind of framework of looking at the world, to see what it really felt like to always live your life without the white gaze looking over your shoulder, so to speak. But when I got to Morehouse, I found out I really hated college. There was a lot of performativity – I didn't know that word back then, but it was a lot of performance, a lot of people who came from specific backgrounds who read the right things and could speak a certain way, and I didn't know that game. I had to learn that game.
I was on verge of saying forget this college thing and just trying to go live life on whatever terms I could – being poor and from the south, there ain't too many options. One of my friends had told me, before you give up on this Morehouse shit, on this college shit, on this elite shit, you should really take a philosophy course. First thing I asked was: how much the books? He was like man that's the thing with philosophy, these books are a few dollars, so I was like alright bet, I'm there.
So I took the intro to philosophy course. The first text I ever read was from John Locke's "An Essay Concerning Human Understanding," an excerpt in there called "On Personal Identity," where he has a very temporal understanding of what it means to remain a person over time. I fell in love with the question. That's how I got into philosophy: through discovering certain kinds of questions that were always present within my mind. I just never had the platform or the space to entertain those kinds of questions before. With the book being cheap and with the kinds of questions being asked, I kept wanting to go to classes. This eventually led me to major in philosophy and then to pursue a Ph.D. at Harvard.
AL: Western academia doesn't consider certain kinds of writers 'philosophers,' even though their ideas have philosophical grounding. Do you consider these writers philosophers?
DP: The short answer is: of course. It is not possible to separate a philosophical doctrine, theory, or ideology from a power structure. For me, that's an axiom. My research is in an area called social ontology, so for me, it is a social ontological axiom. When the philosopher writes, whether a trained philosopher or a person engaging in philosophy, the content is always going to be wedded to its power structure. Only when you forget that fact do you have to go through the frustration of trying to figure out why some people think something is not philosophy and others can't imagine how it could not be philosophy.
AL: Can you talk more about axioms?
DP: Axioms, as in a self-evident truth, as in the old school Cartesian sense. I'm working on a program of philosophy I'm calling street philosophy. I say to social theorists and metaphysicians: metaphysicians need to start caring about social theory and social theorists need to become better metaphysicians. In social theory, there are big problems. Whether you're looking at the social theorist on the streets looking at race and gender, or if you're looking at sociological data, there are many holes in our understanding of the social world. The pursuit of social science is to get our knowledge of the social world on par with that of the natural sciences. So the thing I tell people is that the assumptions that we operate under in social science research are concepts that we totally are confused about.
For example, my dissertation is on the metaphysics of race. When trying to develop explanations of the social world or a social phenomenon like race, social scientists (or anyone else making the attempt) are dealing with a concept that is so confusing and bundled up with so many associations, with histories and power structures and biases. The complexity of the concept ultimately leads to misunderstanding, which leads to confusing claims.
When I say that we need social-ontological axioms, I mean that we need basic claims about the social world that can help us develop clear understanding, models, of what, for example, race and racializing might be, what it looks like in all its different forms, not just the forms in the theorist's head. We need simple claims from which we can start our investigation of the social world, and that's what I'm trying to do with street philosophy. These claims aren't new. I'm not developing new claims. We need to sift through the bad claims to get to the basic claims so that we can get to an understanding of what it means to be Black.
AL: What would one basic claim be?
DP: One claim would be something about the human condition. Let me start with race. The metaphysics of race is awful at the moment. If you look at the research, we're getting back into a neo-eugenics type of moment. It's like hold up, I thought we were smarter than that. What the fuck, hold up. We just went through a whole century where we've seen the holocaust, we've seen slavery in its many forms, how did we get back here to this realist positions about race. The thing about it is, I think that a lot of times in order to try to create shortcuts to understanding what's going on in the world, we appeal to faulty concepts. Instead of sitting back and saying okay, what is this concept grounded on? For example, people talk about different races — if you're in certain Black communities, this is what it means to be Black and they give their criteria. And you say, well if I go to the Dominican Republic and try to give these same criteria and say this is what it means to be Black, people may not even know what the hell I'm talking about. If that something, if that's a real thing in the world like gold is and like water is, if this a real thing on that level, why can't it have any consistency to it? If that's how it is, then you might say there's something faulty about this concept and these criteria, something fictional about this concept. If this goes on, we need to get to the basic elements of what may be causing this.
If you want to make sense of race, you got to think about racialization. And if you think about racialization as distinct from saying there are races out there in the world, then you have this system that makes sense of how, for example, ethnic conflict come up and it resembles the same kind of violence and transgression as certain racial conflicts. Then you say okay, if that's something real, racialization, then what's grounding that? Then you might want to talk about dehumanization. These are the kinds of concepts I'm talking about that can be kind of basic concepts—racialization and dehumanization instead of races—that can help us understand what's really going on when you know one group just can't see another group as being the same level of humanity as them. So that's kind of stuff I'm talking about.
AL: Can you talk more about the problems with the social science disciplines?
DP: There's a deep history to this, I mean I hate to pick on positivism. When this shit airs, people are gonna be like oh, he doesn't understand the nuances of positivism, but I think that we all float in and out of ideologies, including the experts, the so-called experts, the scientists, you know, the learned, and so I actually like this kind of explanation framework, what I'm about to say is this, I think that long story short the social sciences are, yes, suffering from an era of positivism.
Just in case people want to get a sense of positivism, I think positivism is chiefly a philosophical doctrine that was applied in the early twentieth century to science, to metaphysics, infiltrating American universities at the time when philosophy was very integral to the shaping of inquiry.
That meant pursuing the 'objective' truth and whatever doesn't fit within that framework becomes meaningless, or has no sense to it or no reference or no grounding in the world. You can start to see how that philosophical temperament about objectivity and about what logic and mathematics is, harms the social sciences. Because you have to carry out an understanding of social phenomenon through a kind of rigid objectivity which is not possible given the human condition. Positivism probably works great for number theory, I'm not saying positivism wasn't a phenomenal philosophical acknowledgment, but my claim is why do we have to think that it was an epistemic philosophical framework that could make sense of all phenomena? It has had too strong of an influence, way too strong, and to answer your question: this has harmed the social sciences. I don't want to categorize all social sciences, because if you go to the sociology department, for example, you got people doing some really radical stuff, but you get what I'm saying. In general, the social sciences have fallen victim to this rigid objectivity positivist shit.
AL: I feel like I went to college with no understanding of that, and when I began considering what I wanted to study I began learning about what was actually going on in some of these departments. It is alarming that there are so many people choosing what they are going to study without having to think about the politics of different disciplines.
DP: Oh man. It's awful, it's awful. This shit is getting deep. You have to ask a question about why most people in most parts of the world in the academies – what I mean by the academy is the center of research – keep so many secrets. What I mean is that the average person cannot afford all these journals that are peer-reviewed, all the established centers of knowledge that we base policies on, that we shape think tanks on. For a person who wants to read a top law journal, it costs one hundred dollars just to access the journal. The purpose of the price is to keep people from understanding what knowledge production looks like, including the students! I tell my undergraduate students: they look at you as consumers.
The university is not even really trying to educate the students. If they were, one of the first things that would be on the table to study is the university itself. The first thing students should be taking is not intro to sociology but the philosophy of sociology.
AL: And it costs tens to hundreds of thousands of dollars to attend a university and learn how to read those journals.
DP: Thank you. My dear mentor and brother who I adore and admire on a spiritual level, Dr. Cornel West, he always talks about the jargonization of the academy. Some jargon has its place. But, from the street philosophy standpoint, the question is this: whether you're in academia or a block in Chicago, why are you so sure that your formal categories work for me? Or us? Or them? Notice the pronouns. Street philosophy is really a philosophy of the Other. This white minded gaze is really trying to impose categories on us. Who the fuck said they can do that? I'm sorry I'm cussing man, but there's a lot of energy behind this, it's hard to talk about this.
AL: How do the academic disciplines take part in imposing categories?
DP: They're hegemonic. They're trying to dominate concepts. Can you believe no one has thought about what a 'public concept' is? The foundation of my metaphysics is something I'm calling a public concept. The hegemony of the academy is incompatible with street philosophy, though you do have street philosophers in the academy, which is ironic. Part of the hegemony of this academic system, of this research system, is the colonization of public concepts, one example of which is race. Here's one big thing I have a problem with: in the realm of Black studies you have so many scholars like John Henrik Clark. Their folk, their environment, the people that produce the knowledge, their public, they were the people that had the authority to produce claims about the Black community.
You have all these fancy universities that are also producing Black studies stuff about this and that. When I say colonize, I mean controlling the conversation about what it means to be Black. As a result of this colonizing drive for control, you lose something, you lose a lot, and what ultimately ends up happening is that the Black studies conversation becomes a white minded ideology because the university (that is part of white gaze) has taken the conversation away from the community. That's why we don't have any ownership over the public concept of race anymore. Is there a law for that? Hell no, but there should be. That's what I mean by the hegemonic colonization of public concepts that the academy abuses and abuses.
AL: Yeah, and even if these professors have good intentions.
DP: Exactly, if we had more time, I would tell a story about that.
Can I say this for the camera: I'm a part of it man. The conversation I'm giving you is the ideal. I'm just here to tell the truth. The truth is the truth. As for practicality, I understand why good people are part of that type of structure. I'm part of it. I'm going to be a professor.
AL: Can you talk some more about white-mindedness?
DP: Like I say, it is a basic axiom. White-mindedness is my term for the basic axiom of racialization. It's what we're talking about so to speak. I went to Morehouse. I came to Morehouse from a community where it was really white against Black, more or less, Black people know they're Black and white people know they're white and that's how it is. To an extent, there's a kind of solidarity back home for Black people, an old school style of not turning your back on your fellow Black brother. It's more complicated than that, but it's there.
When I got to Morehouse I was like wow. Man, I've never seen so many Black people – and I'm saying Black people specifically – oppress other Black people. I've never seen it. We're all supposed to be so-called Black, part of the same group, but at the same time, our mental states were so incompatible and misaligned. One time I was sitting on the stoop with one of my homeboys. He was from California, and we were talking shit and I was like man some of these brothers they so Black but they got such white minds. I just said that, and I just thought about it. And my homeboy was like that's dope, you gotta keep thinking about that because that's true. After that conversation, I began the investigation into what I call the phenomenon of white mindedness. The thing is every time I give a talk about this concept I tell people the ironic thing about white mindedness is that when it first originated, when I first theorized about it, it was not at all about white people, it was about non-white people, and how non-white people were still capable of have the same properties and characteristics that we attribute historically to white-people. It's not about bodies. This is why race is a myth.
It is not a bodily thing, it's not what the old school metaphysician would call a substance. It is what you might call an ideology, but it's also more than that. You need a mental concept. The label white minded solves what social theorists call a macro-micro problem: it's a mental concept, a middle ground concept to understand how you can have an ideology manifest with its subjects, it describes what it means to live in a racialized way. It solves a lot of problems, it shows you why some forms of identity politics don't work, it shows why being Black doesn't necessarily make you in line with historically Black values.
AL: Do you think white-mindedness occurs due to the space or the people within it?
DP: I actually think it's about the space. The social scientist is going to say, what's the space without the people. This is when I think about artifacts and space and geography and architecture. It's more nuanced. This is when artists can help us, this is when you gotta leave philosophy and science and you gotta go to the artists. Fuck that. We gotta start changing the form of life type shit, like some Wittgenstein type shit. People and things play off each other. That's the nature of the social – that's an axiom. As a young kid – nineteen, twenty – I was so hurt. It totally went against my metaphysics of race. I thought Black meant Black. Black doesn't mean Black. Black is nothing other than how you experienced it. Some people align with certain historical values of Blackness and some people don't because they went to white minded spaces and were around things that were products of the white gaze.
White mindedness is a property of what Franz Fanon calls the white gaze. The white gaze is just this abstract collection of people and things, entities and institutions that produce or facilitate the white supremacist doctrine. So the white supremacist doctrine is whatever the mental state of historical white oppressors was. Whatever that was. How do you figure it out? You gotta do your homework. You gotta read the history, read the writing. That's the transitivity of white mindedness, that's the grounding of it. White mindedness is a basic concept of the metaphysics of race but it's not a basic concept of social ontology. So, the claim is that in order to make sense of the phenomenon of racialization you need to understand the concept of white mindedness, but also it is not necessarily true that in order to understand all the forms of domination of the human conditions you need to understand everything about the concept of white mindedness. White mindedness is trying to understand white supremacy, but it may turn out that white supremacy is contingent upon other ideologies. You want to make room for that.
AL: How does street philosophy relate to subversive action?
DP: Ultimately street philosophy is a metaphysical program for how we ought to arrange our political resistance. I'll give a detail. What I'm saying is that street philosophy is trying to get us to understand that in order to resist, given certain historical conditions – white supremacy and patriarchy – there are certain layers of ideology that we have to work through first. What does that take? That takes a nuanced education, what street philosophy is trying to do is get us to understand that.
I don't mind this being on record. I personally had a lot of problems with the Black Lives Matter movement. I thought it was very white minded in some respects. The Black Lives Matter movement has done a lot of great things and it has also harmed a lot of people silently because of its white mindedness. That said, the thing is that in order to even engage with the BLM movement you have to be at war with the ideology that we are all Black people because of the way we appear.
Before we resist, whether as Black people, Palestinians, or any other group that has been historically oppressed, we have to understand certain ideological points first. We do that by the street philosophy program. It's a program and platform for why we should engage with knowledge in this way in order to have an effective resistance. I think a lot of movements are not as effective because they are haunted by problematic ideological components. Street philosophy is trying to help us dig through that before we resist.
AL: Do you think resistance comes out of revising how we learn and how knowledge is produced?
DP: Yes. I think that's the only way in the twenty-first century. It's not that we can do it now, it's that we must do it now given what the information age has become. This is the age of informing people through information and knowledge with accurate reference to the human condition. People are thirsty for this. I don't need to sell people street philosophy because they already own it, they just never had a word for it. I'm not teaching them anything, I'm just providing them a label. I am Wittgensteinian to an extent. I do think language is a co-creator of reality, I do think street philosophy is tied to language.
If someone asks me, why are you writing a dissertation on this? Why have you created an organization called the street philosophy institute if people are already doing this? I'd say because people don't have a word for it. Same with white-mindedness. James Baldwin said in an interview in the latter part of his life that all whiteness is a state of mind. He had the concept of white-mindedness, but he didn't have a word for it. So that's what I'm here to do: to provide words and language to help people resist.
I really want street philosophy to get out into the world because I think we can use it for resistance. But we can't resist if we don't understand what's holding us hostage.