CJLC Interviews editor Tara Skaggs McTague interviews Ross Gay on his recently published book, Inciting Joy, an essay collection that examines the joy that is created when people exercise care and compassion toward one another especially in moments of strife.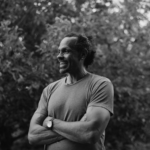 You begin Inciting Joy with a description of an older woman coming up to you while crying and saying "I didn't know you could write about joy." How does your book help people connect more deeply with joy?
I don't know—you would have to ask the readers! It helped me connect more with joy because it helped me, or required me, to spend time thinking very hard about the practices or phenomena in my life that help me, or, again, requires me, to practice entanglement (which is what I'm coming to think Joy is—what we enter when we practice our entanglement).
Of the 14 incitements, was there one you were most excited to write about and why?
I loved writing all of them. I felt differently thrilled to write all of them. I was very excited to write about skateboarding, and pick-up basketball, and cover songs, and gardening, all these areas of "expertise" in my life. School, too. I think the most difficult one to write, though, was probably "Grief Suite"—I don't mean, necessarily emotionally difficult, though that too—I mean more like the chops it took to get something like that done. But the cover song one too was kind of like that.
In your poem "Catalog of Unabashed Gratitude," you describe a number of dreams. How do you find inspiration in dreams?
Well, I am inspired, or compelled, to write about what I don't understand, and dreams are rich and fertile repositories of that, for sure.
I noticed that in many of your poems, including "Sorrow Is Not My Name," "Wedding Poem," "Ending the Estrangement," and "Catalog of Unabashed Gratitude," you include imagery of birds. I am surprised by this imagery. What draws you to birds, and can you elaborate on what you see in them?
I wonder why you're surprised by that—someone recently told me that birds are the most frequently occurring non-human critters in poems, which seems right to me. Different birds in different poems and essays mean different things to me. I suspect some of what birds are to me is what they are to many poets: singers, flyers, escape, freedom, etc. But to me, I hope they are also often birds.
In the second incitement called "Through My Tears I Saw," you write, "It was through my tears I saw my father was a garden. Or the two of us, or the all-of-us, not here long maybe it is. And from that what might grow." The next incitement is about gardening. Could you explain this quote in more detail? What made you choose the image of the garden?
Well, the freckles as seeds in the preceding sentence got us to his being a garden, and that made the garden section seem to make sense going next. I think what it says is what it means: our not being here long is a kind of garden.
Finally, in the First Incitement you write that this list of incitements of joy is incomplete. If you were to write a sequel to Inciting Joy, what other incitements would you include and why?
Cooking, foraging, architecture, games/play, friendship, etc. etc. etc.