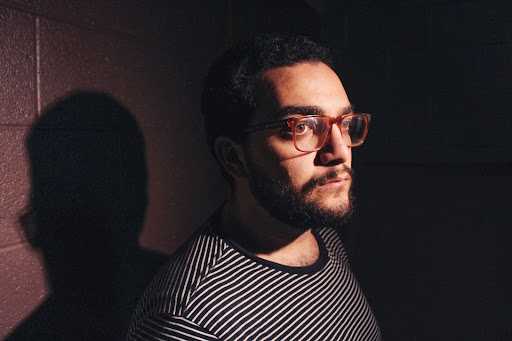 These days, it seems like everyone is waiting for Frank Ocean. The elusive singer's most recent album, Blonde, was released in 2016; it was widely acclaimed, but has yet to be followed up. In the space left by Ocean's absence, a sort of mythos has built around the man, the kind of fragile mystique that surrounds those rare artists who have yet to disappoint. (Lorde pre-Solar Power occupied a similar space.) It is in this gap between the tangible music of the sanctified singer and the empty promise of his return that Hazem Fahmy's newest poetry collection, Waiting for Frank Ocean in Cairo, takes shape.
Fahmy, a writer and critic from Cairo, describes his sophomore collection as "a catalogue of the constant in-betweenness of being caught in the middle of two places across an ocean." The poems in the collection span both time and space, condensing both into a series of images that landmark the continuities of constant movement. Using Frank Ocean as a musician and as a man, Fahmy traces growth and circularity. He writes: "In ten years, / I never hung a poster of Frank on my wall," speaking to the inherent ambivalence of turning an artist into a symbol. One is aware of the essential lack of reciprocity, so one resists subsuming one's desire in a physical manifestation like a poster on a wall.
In "Frank Haunts Me Across A Decade," Fahmy writes of wanting "endless phone calls, to be harangued / ceaselessly by those who needed me." These lines capture the essence of need at the bottom of loneliness, a key theme in Ocean's discography. Fahmy's poems are interwoven with Ocean's own artistry: in fact, two of the poems are centos, composed of Ocean's lyrics. In "Faith Is the Substance," Fahmy arranges Ocean's words into an exhortation of the melancholy joys of running away from everything. In "Don't Die," Fahmy takes several of Ocean's lyrics that make reference to America and creates a piece that diagnoses America's essential problem as numbness: "zero emotion, muted emotion, pitch corrected / computed emotion, I've no doubt / this is the home of the brave."
An antidote to the numbing effect of American antipathy is represented through Cairo. In "All Summer I Waited for Frank," the speaker arrives at the end of the summer / the poem "in Cairo and by the grace of God the album is just there on my phone." It is only after he leaves Cairo that he realizes that on the new Frank album, "there aren't even that many songs I can dance to." Ambivalence exists in the fact that emotion can never be static; there is always another journey to undertake.
Identity is also refracted through the medium of Ocean's music. Fahmy's poems explore queerness and queer love, representing the nuances of modern relationships as mediated by technology and encapsulated in the idea of a digital playlist. This is captured in the enjambment of "I reject the call / of music. I delete the playlist / with the saddest Frank songs." Sometimes self-care takes the form of a digital reshuffling, using the tools of our time to shape our emotional landscape to be a home that welcomes us.
Fahmy occasionally depicts the mess of multiplicity being reduced to the realities of flesh. In "Interrogating My Family's Living Room(s), to the Tune of 'Skyline To,'" he delves into the different news channels that his family members watch, eventually exploring the reasons behind his grandparents' fascination with watching "a pirated WWE channel / with Arabic commentary." He argues that the fighting is staged, but his grandmother insists: "Of / course it is [real], she said. Look / at all that blood. There's / so much blood." This piece, positioned in the back half of the collection, highlights the importance of the body as a signpost of truth amid the confused sea of modern existence. If the truth of blood can't be trusted, what can be?
Ultimately, Waiting for Frank Ocean in Cairo is a beautiful collage of interiority and exteriority, as Fahmy warps his own trans-continental experience around the beacon of Ocean's art. The collection is about Frank Ocean, but it's also about what Ocean's music is about: needing love, needing touch, being vulnerable and tough and masculine and queer all at once. Fahmy's command of language and imagery turns the words on the page into something as moving as music.
You can order Waiting for Frank Ocean in Cairo from Half Mystic's bookshop.